Step 2: Add Remote Commands
The next step is to add remote commands to your remote profile. If you wish to control an application for which a Vectir plugin does not exist, you will probably want to control it with keyboard shortcut commands. Complile a list of keyboard commands that you would like to control from your remote. Then start adding keyboard commands to the Command folder of your remote from Setup > System > Keyboard > Commands > Keyboard macro. Drag the "Keyboard macro" command into the Commands folder of your remote profile as shown below: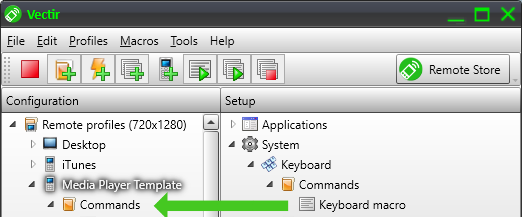 The Keyboard Command Setup dialog will now open. It is recommended that you tick the 'Send keyboard command to application' checkbox. This way if your target application loses focus Vectir will make sure it still receives your keyboard commands. Then enter the path to your applications .exe file. If your application is running, you can use the 'Find process name' option.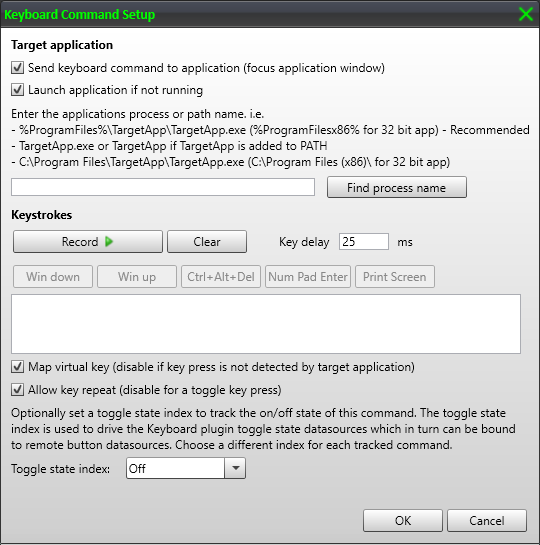 Click the Record button, enter your keystroke(s) then click the 'Stop recording' button. The 'Map virtual key' checkbox only applies to Windows 7 or earlier. Untick this checkbox if you are on Windows 7 or earlier and your keypress is not detected by the target application. Untick the 'Allow key repeat' checkbox if you want to ensure your command does not run multiple times while the remote button is held.
A new command called 'Keyboard Keyboard macro' will have been added to the Commands folder of your remote profile.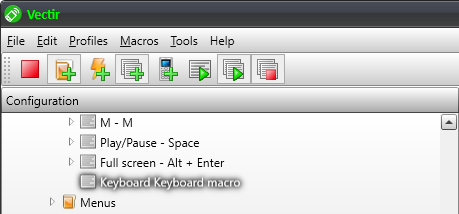 Select this command then press F2 to open the rename dialog (or right click and select Rename). Give the command an appropriate name. You can enter whatever you like but the basic Vectir convection is "Command name - key name". i.e. "Play/Pause - Space".

Click the Rename button and your command will now show its new name.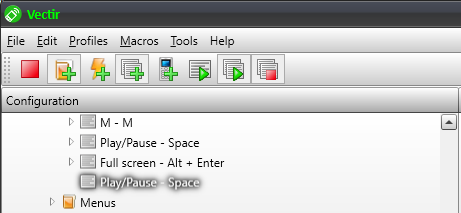 Repeat Step 2 for all required commands.