License Registration Instructions
Thank you for your purchase! The following instructions show how you can register Vectir Remote Control once you have received your activation key. Visit the purchase page if you haven't purchased your license yet.
Step 1
Check your email and open your license email. It will hold your Vectir server activation key. If you have not received your activation email within 10 minutes of your purchase please check your junk/spam email.
Step 2
You can access the registration dialog from the About Vectir dialog in all versions of Vectir. From the main menu select Help > About Vectir. Alternatively you can click the Register or Unlock features button at the right hand top corner of the main window if running the Vectir Remote Control trial or free version.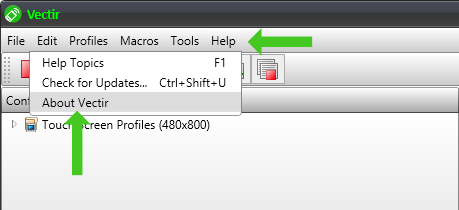 Step 3
On the About Vectir dialog click the Enter Key button. This will open the Vectir Activation dialog.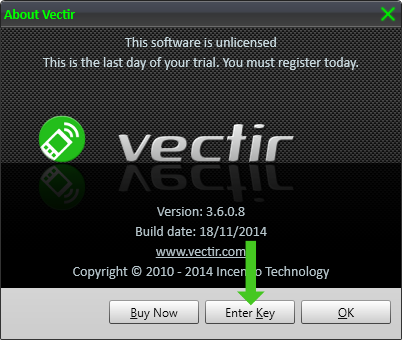 Step 4
Copy and paste your activation key into the text box on the Vectir Activation dialog.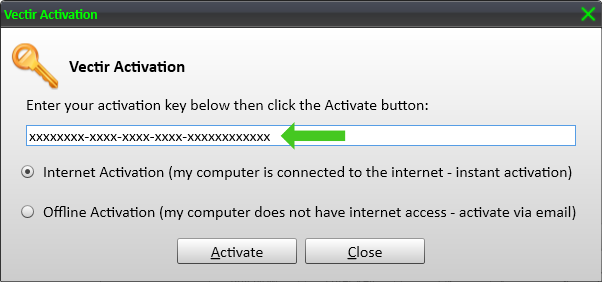 Step 5
Next click the Activate button on the Vectir Activation dialog. If you have correctly entered your activation key, Vectir will display an Activating license message and attempt to contact the license server to activate your license.
Step 6
If your license has activated successfully an Activation successful message will be displayed. Next click the Close button on the Vectir Activation dialog. Vectir will restart with all full version functionality enabled.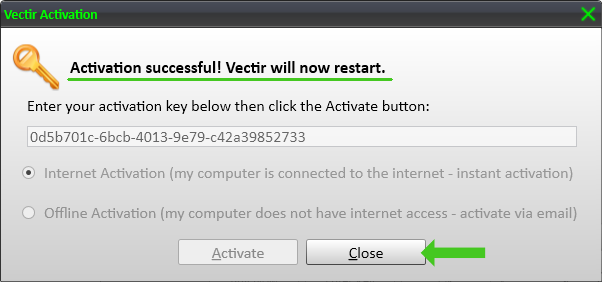 Contact
If you need help with registration please email Vectir support at the link below