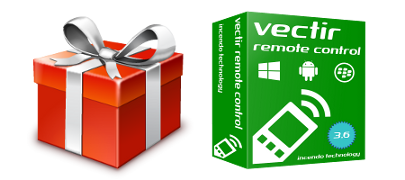 What does it do? Vectir turns your mobile phone or tablet into a universal remote control for your computer or IR devices. Compatible with PC, Android, Windows Phone 8, BlackBerry and J2ME devices.
Step 1
Like our Facebook page:
If you don't have a facebook account, go to step 2 and send us an email anyway. We will then reply and let you know how to get a free license with other methods.
Step 2
Email your facebook user name and full name to giveaway@vectir.com
Step 3
We will generate your Vectir full version license and send you an email with your activation key. Check your junk email if you haven't received your license email within 8 hours.
Step 4
Download and install the FULL version of the Vectir PC software. Enter your activation key and hit the Activate button.
Step 5
Install the Vectir Remote Control mobile app and start enjoying Vectir unlocked with full version features!